4 Inspirational Success Stories of Entrepreneurs in India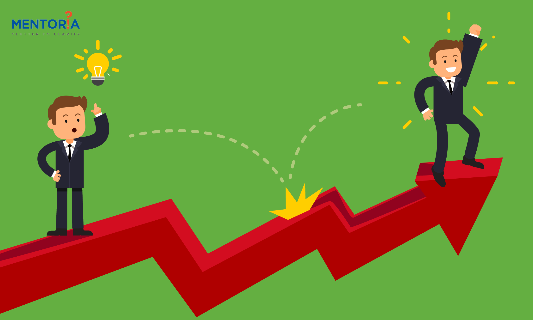 ---
---
Imagine giving up all that you have to follow your dreams. Most people driven by reason would find the decision of ditching their well-paying job to pursue their dreams odd. There are a ton of people out there, including the ones from the top brass who have done this. We bring you the stories, of their journey, which has been a beautiful mix of a 'bittersweet symphony.'
For those of you who have dreams, whether big or small, of doing something on your own, their insights just may give you clarity on how to piece the puzzle together.
We chatted with Nikunj Jain of Darwin Labs, Ashutosh Pande, founder of Bajaao, who threw some light on what it's like to be your own boss, and two entrepreneurs who chose to build on their passions. One of them is a seasoned hand, and the other is a co-founder of a start-up.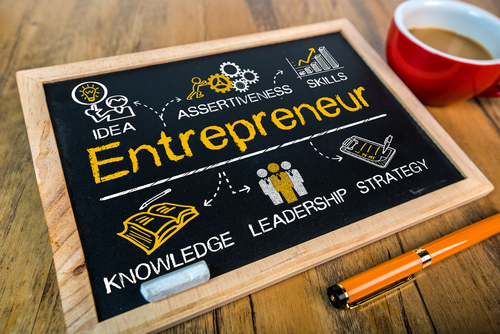 Let's Keep it Simple with NIKUNJ JAIN | Darwin Labs
Nikunj Jain calls himself the 'chief problem solver' at Darwin Labs, besides being an entrepreneur and starting off a few companies of his own he is also, an angel investor. From the very start, Nikunj needed to be intellectually stimulated. After speaking with a lot of his seniors at IIT Delhi, he soon realised how more than half the people who were working, didn't feel that they were giving their 100 percent at work. Thus began his journey to become an entrepreneur.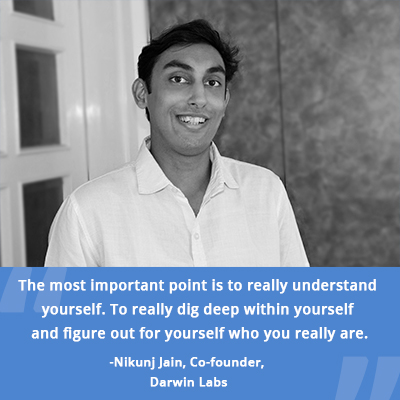 The main pretext when a person starts their own company is to "start small and then build on what they have," he says. It also important to keep expectations low and realistic. If a person who has just begun a company thinks that within a year he would be able to make a million bucks, he would be deeply disappointed.
"Funding is exceptionally overrated in our country," Jain says.
As a co-founder of inoXapps, he has bootstrapped most of his companies. He took an interest-free loan from his father to begin his company on a budget as small as 1 lakh and 30 thousand rupees. He just needed enough for his basics, since he lived with his parents. Despite his company becoming a very profitable one, he reinvested the money further into his future companies, without having borrowed money from external investors.
"The most important point is to really understand yourself. To really dig deep within yourself and figure out for yourself who you really are. What is it that you like to do and don't and how much money you want. There are some people who want millions and there are some who are happy with a little," he says.
In order to be a successful entrepreneur, one has to be clear about the difference between product and business. People often confuse the two concepts, it is, therefore, essential to ask yourself whether you would like to make a product that solves problems or build a company that makes money. At the end of the day, the investor would not want to invest in the company if there are no returns. Hence it's important for an entrepreneur to understand whether the money an investor is investing is good enough to cover costs. According to Jain, this is Business 101 that most people in recent times tend to overlook.
As an angel investor and an entrepreneur, Nikunj feels that money is always glorified when you're an entrepreneur, but that isn't always the case. In order to become an entrepreneur, one needs to be talented and hardworking. Once the focus is right, everything else falls into place. At the end of the day, "talented people should go out and launch businesses and the untalented ones should bank on their luck to build a product."
Getting the Right Premise with ASHUTOSH PANDE | Bajaao.com
Ashutosh Pande is a versatile businessman AND also a musician. He gave up his well-paying job and began an e-commerce platform –  Bajaao.com in 2005. He was funded by his mother and sister and two maxed-out credit cards.
Bajaao is also one of the longest-running e-commerce platforms and has withstood competition like Flipkart and Amazon, despite catering to a niche audience.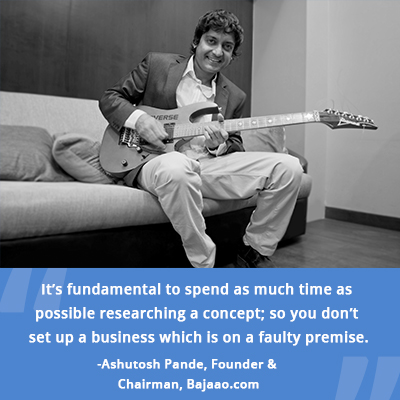 Like most entrepreneurs Pande began on a small budget, setting up the website pretty much on his own. Since he had worked as a Senior Technology Manager, he had the skills to code for his own startup, which saved him a lot of money. He then roped in his closest friends and ran a three-man shop.
"Since I began learning about the technical specs of music, it became easier for me to sell it online. We started becoming a knowledge bank for people and that's how we began making sales," he says.
During the initial days of Bajaao, Pande received a phone call from a potential client in Bhopal, who was looking for a particular guitar. The person had gone around Bhopal asking musical shops for a guitar like 'Metallica's'. Bajao was able to help him out since they knew what his requirements were.
Delivery of instruments was one of the biggest challenges that he faced back in the day. Instruments are extremely fragile and needed to be handled with care. Since logistical companies like FedEx and DHL had not entered the Indian markets, there were times when Pande himself would deliver the instrument to the buyer.
Getting the premise of the business right is one of the most crucial aspects of any startup. Pande loves music and has a good understanding of musical instruments. He understood that buying an instrument in a metro is much easier than buying one in a smaller town. Hence the idea of setting up Bajaao.com was to make musical instruments more accessible to people living in the non-metro cities.
Pande leaves us with some thoughts that would be useful for budding entrepreneurs.
"It's fundamental to spend as much time as possible researching a concept; so you don't set up a business which is on a faulty premise," he says.
Dream Big with ASHISH SHAH | Pepperfry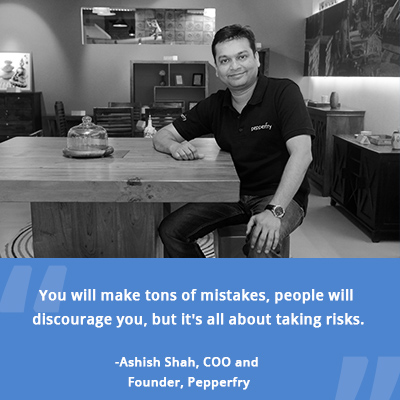 Pepperfry, a leading player in the online furniture retailing segment, is the brainchild of Ashish Shah and Ambareesh Murty. What began as an online lifestyle portal, quickly evolved into a space to sell furniture in 2012.
For Shah, armed with 16 years of experience in e-commerce, this was a step in the right direction. He went all out with his partner Murty and invested all their savings into the business.
While planning out the concept, he thought of all the adjustments he would have to make in his personal life to fulfil his dreams. He had twenty people who joined him from his known circle, and while he promised them a monthly salary, he was unable to live up to his word. Money was drying out quickly. Despite having a term sheet that had already been accepted, there were no deposits in the bank.
So he decided to take his team with the last bit of the money he had, to Goa, to brainstorm and come up with a proper business strategy. He feared, on his return, he would have to wind up his business. To his surprise, the investor had already transferred the money into his account, and thereon there was no looking back.
While setting up, he faced several challenges in terms of sheer idea and logistics. Most products were damaged on delivery. Within the first year, he also sold off 50% of his business, as it had begun as a lifestyle portal. All this amounted to growing debt. Adamant to make it work, he set up his logistical team and now has about 300 carpenters working for him. Pepperfry now has its own box logistics system.
Shah says, "In my mind, it all starts by thinking big, I give this example to my kids. Now let's say there are 100 kids in a classroom. Only 15 of them probably think really big. The remaining 85 are fine with how things are. Well, if you are not thinking big, you are uninitiated."
For all those out there who plan to become entrepreneurs, it's important to stay focused and be competitive. There will be a lot of people who will like the idea and some more who will think that the idea isn't viable. That shouldn't stop you if you are sure of your idea.
It's not a choice to opt out of the business when you get in. One must accept the business with all its pitfalls wholeheartedly. Shah says, "You will make tons of mistakes, people will discourage you, but it's all about taking risks".
Challenge Accepted with NIKHAR ARORA | Mentoria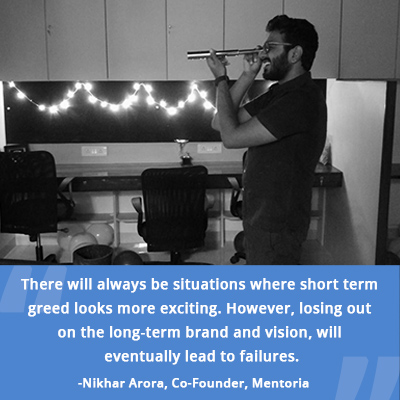 Well, I happen to work for a start-up myself and the person heading it is quirky and innovative. Nikhar Arora is the co-founder of an EdTech platform called Mentoria, a platform that enables students to discover their ideal career choices.
He feels that documentation is key while setting up any company. "Documentation as an entrepreneur is incredibly important because a ton of people have a ton of different ideas," Arora says.
In order for the idea to turn into a reality, it is essential to try and test it out first. No investor will come on board to fund an idea that's only on paper.
What is this about? What change is it going to make? How much money is it going to need? What's your plan? Who is going to use it? How are they going to use it? Will they actually benefit from it? – these are questions, according to Arora, an entrepreneur needs to have ready answers to. Once you have all your questions answered, you are ready to take this plan to the next level.
"There will always be situations where short-term greed looks more exciting. How can I make money today? How can I solve this problem today? However, losing out on the long-term brand and vision will lead to failures. It's vital to think of what a move might do to you, your team and your organisation in the long-term," Nikhar believes.
There are several other teething problems that one may face in the nascent stages of setting up a company. Getting a team together was one of the biggest challenges faced by Arora. "We had nobody wanting to join us because we were a new company. New organisations that may/may not succeed don't look too good on CVs. We took a while to figure out how to excite people enough to join us. We also started looking for different qualities in the people we were hiring – risk takers being of prime importance." he says.
However, when one is hiring, you have to play the role of a recruiter, the finance manager, the office coffee supplier and also the founder. Lean teams require you to do a lot more than what you're expecting. Being ready to learn, having a high sense of ownership, and not being afraid of failures are key.
A lot of young entrepreneurs may think that they are self-sufficient. Most of them are not very receptive of the thought of having an experienced hand on board. Arora disagrees.
"If somebody has been an entrepreneur before, then he/she has had a ton of experience. It's therefore very very critical to get the white-haired people on board because, while you have the energy, the charisma, the will, they have everything else."
Right from setting up processes, governance, compliance to how an organisation should function, experienced people have valuable insights to offer.
I am going to leave you with a quote, by one of the most successful entrepreneurs in recent times,
"The biggest risk is not taking any risks. In a world that is changing really quickly, the only strategy that is guaranteed to fail is not taking risks," said Mark Zuckerberg. So you can go ahead and chew on this and who knows, one day, somebody will quote you as a source of inspiration.
We are often faced with questions that we are unable to get answers for, especially when it comes to career choices. The story of all our lives, will always leave the reader with a myriad of emotions, well this one was meant to challenge and inspire.