What is a Psychometric Assessment Test?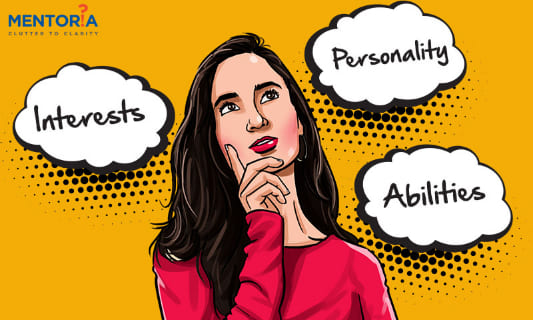 ---
---
You may have often come across the term "psychometric assessment", especially when someone suggests some kind of career guidance or counselling to you. But what exactly does a psychometric assessment do? To answer this question, we reached out to Amruta, head of psychometrics at Mentoria.
To give us some insights into the world of psychometrics, she started out with the story of her cousin who was very restless as a child and was therefore not able to perform well at school.
"My relatives got him to take a psychometric test and it turned out that he was actually a brilliant child! He just had too much energy that was not being expended in the right manner!" says Amruta. With the root of the problem in plain sight, the child's mother enrolled him in a physical activity class and a chess class. "When he started going to both of these, he began exhausting his pent up energy. This, in turn, helped improve his grades, and today he is one of the most patient people in the family," she says.
So, What are psychometric assessments?
A psychometric assessment is an objective test that gauges you on different areas – personality, abilities, and interests – and gives you a deeper insight into who you are as an individual. The results derived from these tests are typically comparative in nature. They tell you where you stand amongst other individuals with the most similar character traits – age, education, etc – to you.
For example, if we were to gauge your height on a scale from tall to short, it would differ according to the population you were compared to. In Oriental countries, you may have an average height, but in European countries, you may be considered short. Hence, to give you an accurate verdict, you must be compared with the population that you identify with the most.
This is why Mentoria has specially designed its assessments keeping in mind the traits of the younger Indian population.
Find the right career fit for you from 3 streams, 850+ courses & 12000 + careers with Mentoria. Discover more with our 4-step career guidance solutions, beginning with our premier psychometric test.
Who should take these tests?
To be honest, anyone who is confused. It could be students or professionals, or anyone looking for a clear direction in life. If you feel lost in your career and feel like your passion has gone missing, give Mentoria's test a shot.
In the end, should we always follow the recommendations put forth by the test? What if we don't agree with the options that come up?
There's only so much a machine can do. While the report provides recommendations based on your responses, you are encouraged to speak to a trained professional (Career Counsellors) and discuss your reports with them to come to an informed decision. It's just like getting a medical test done. While you can identify certain peculiarities through your report, you need to have a doctor take a look at it to understand what your next steps should be.
We hope this article has managed to answer most of the questions you've had about what our psychometric assessments do and how they help you. If you have any more questions or want to take our assessment to understand where your true calling lies, don't hesitate to reach out to us.
How do psychometrics come into play when deciding on a career path?
When deciding on a career, the most important factors to take into consideration are: Your passion for building a career in the field and your abilities to perform in that field supported by some factors of your personality. Just considering one of these aspects may not always point you in the right direction.
For instance, let me share the example of my younger sister. She is artistically inclined. She loves altering and tweaking her clothes and accessories to give them a facelift. So, I thought she could be a good designer and we as a family began pushing her to take up a design course of some sort. But she said,  "I don't like it when people ask me to do it for them. This is my hobby and I approach it that way. I enjoy doing it for myself in my free time, but I don't see myself taking this up as a job." While deciding on a career, that clarity is necessary. This is where psychometric tests help. They assess you based on your interests, personality and ability, and accordingly recommend career paths you are most likely to enjoy and excel in.
Types of Psychometric Tests
Psychometric Aptitude Testing
To assess a candidate's cognitive talents, psychometric aptitude tests are performed. There is normally a minimum score with these sorts of exams, which helps to define an individual's IQ levels.
Behaviour Testing
This helps to learn about a candidate's preferred communication style, how they handle setbacks, and how they approach team management by analysing and understanding their behavioural style.
Personality Testing
Personality tests assess a candidate's eligibility for a position by obtaining information about their interests, values, and behaviours.
Emotional Intelligence Testing
A person who is extremely emotionally intelligent will be considerably better able to recognise their own feelings as well as the emotions of their peers. They can also utilise such information to guide their thinking and actions. We can determine how well applicants communicate with others in the workplace by measuring their emotional intelligence.
How is Mentoria's Psychometric assessment different from the rest?

One of the most outstanding features of our assessment is that it is designed for Indians. Also, the questions asked on the test probe and look deeper to recognise your passion, abilities and personality by not only looking at your base interest in the field but also giving you detailed insights into which part of that field you're best suited for.
Another outstanding feature of our test is that compared to most other psychometric assessments, our test takes much less time and still offers one of the highest reliability rates of 0.85.
Our reports too are very easy to understand by both children and adults. They offer a play by play insight into your profile based on the information you've provided.
We hope this article has managed to answer most of the questions you've had about what our psychometric assessments do and how they help you. If you have any more questions or want to take our assessment to understand where your true calling lies, check out our video about how Mentoria works
Kickstart your career with Mentoria now. Get one-on-one sessions with career counsellors and support throughout your career discovery process.