Want to Pursue an MBA? Here's All You Need to Know About an MBA Specialisation in India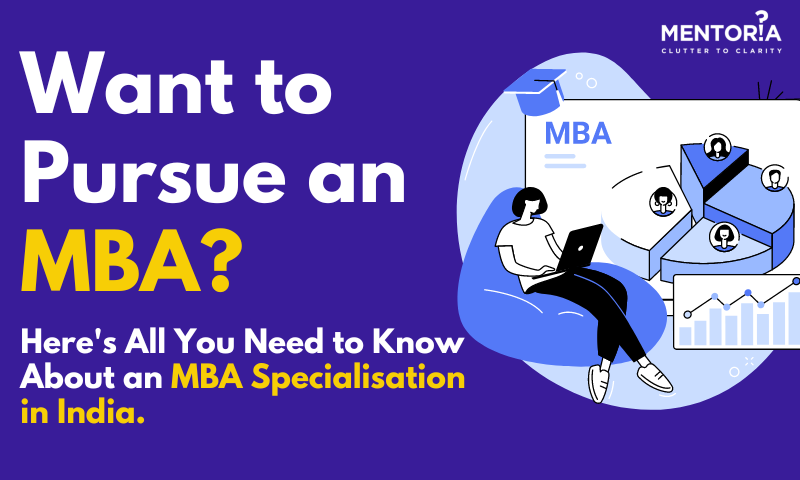 ---
---
Have you recently graduated and wish to study further? Or perhaps you're an established professional looking to improve your skills? You may have considered getting an MBA specialisation, but you may not be familiar with all the details.
With the world moving to internet platforms for almost everything due to covid, a few industries have seen an upward trend like IT, E-Commerce, Digital Marketing,etc to mention a few. As a result of the hiring boom in these industries, MBA aspirants must seize this chance.
This blog is your comprehensive tool for learning everything there is to know about an MBA, including a list of available specialisations in India, and a list of the top universities in India that provide those specialisations.
What is an MBA?
An MBA (Master's in Business Administration) is a postgraduate professional master's degree that is typically a full-time 2-year programme. All MBA programmes have specialities that are needed for various businesses, allowing you to go further into the area of your choice and interest and assisting you in carving out a niche in that specialisation.
The majority of working people used to choose an MBA to advance their careers and increase their chances of landing high-paying job offers. Nowadays, even graduates have started opting for an MBA. 
Let's look at the list of MBA specialties available in India without further ado.
Now, Which MBA Specialisation is the Best for You?
Confused where to go for an MBA in Marketing? Here are some of the top Institutes offering an MBA in Marketing: Indian Institute of Management (Ahmedabad), Indian Institute of Management (Calcutta), Institute of Public Enterprise (Hyderabad). 
We're all well aware of the growing role of online marketing. So, numerous institutes have started to offer an MBA specialisation in Digital Marketing which is an extended version of traditional marketing skills.
With an MBA in Digital Marketing, you gain a wide range of managerial and digital abilities, including SEO, SEM, SMM, website development, content management, email marketing, and much more.
Some of the top institutes offering an MBA specialisation in digital marketing are RVS Institute of Management Studies and Research, Coimbatore, Tamil Nadu, Rayat Bahra University, IIKM, Business School, Chennai and IIDE – Indian Institute of Digital Education, Mumbai, Maharashtra.
Planning and managing the company's financial assets and resources are the duties of a finance manager. This also includes the responsibility for monitoring and analysing financial risk. An MBA in Finance will equip you to work in accounting, banking, the stock market, international finance, and privatisation.
Top institutions offering an MBA specialisation in finance include the IBMR Business School, Jain University, and SP Jain Institute of Management & Research in Mumbai (Gurgaon)
The HR department of a business is in charge of hiring, developing, and assembling a team of workers. You must regularly review their performance, manage their pay and promotions. You'd also have to create a strong employee policy to ensure safe working conditions. You will also be responsible for maintaining the company's facilities for health and safety.
Top Institutes offering an MBA specialisation in HR are Tata Institute of Social Sciences (Mumbai), Management Development Institute (Delhi), Xavier Labour Relations Institute (Jamshedpur)
You may learn about all aspects of business, including HR, Finance, Marketing, Operations, Retail, and more, with an MBA in Business Management. This MBA Specialization makes you well-rounded and is a top choice for those who wish to run their own company or start a business in the future.
Top Institutes offering an MBA specialisation in Business Management: Indian Institute of Management ( Ahmedabad, Bangalore, Calcutta, Lucknow), Symbiosis Centre for Management and Human Resources Development (Pune)
Young woke people who are aware of the changing socioeconomic policies of the government are gravitating toward rural development in greater numbers. You can learn how to organise and manage agricultural activities by earning an MBA in rural management. You will have to collaborate closely with Indian farmers and communities as part of this MBA Specialization.
Some of the Institutes offering an MBA in Rural Management are Welingkar Institute of Management (Mumbai), Amity School of Rural Management (Noida), Indian Institute of Rural Management (Jaipur)
An MBA in Information Technology is the ideal choice for you if you have an interest in computer science. This MBA will prepare you to manage an organisation's whole IT infrastructure, including all networks, data centres, hardware, and software.
Some of the best institutions offering an MBA in IT include Chandigarh University, BIMS in Kolkata, and the Jamnalal Bajaj Institute of Management Studies in Mumbai (Chandigarh)
Mentoria – Your Perfect Career Guidance Platform
Confused about which MBA specialisation is the best fit for you? We're here to provide you with all the help! Kick-start your career discovery journey with Mentoria and discover the right career fit for you. Feel free to call us to speak to our career mentors. We will help you choose the right career guidance plan that suits your needs.
Mentoria's career guidance programme enables you to choose your perfect fit from 3 streams, 850+ courses, and 12,000+ careers. This will help you discover what will bring out the best in you.