Importance of Time Management for Students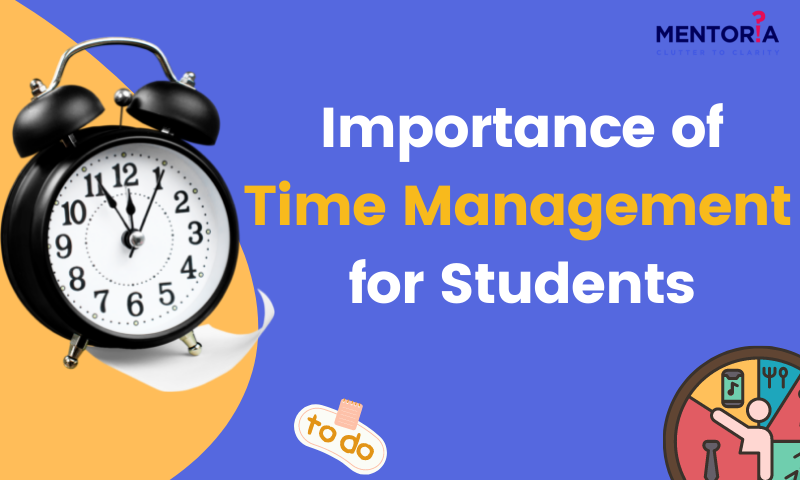 ---
---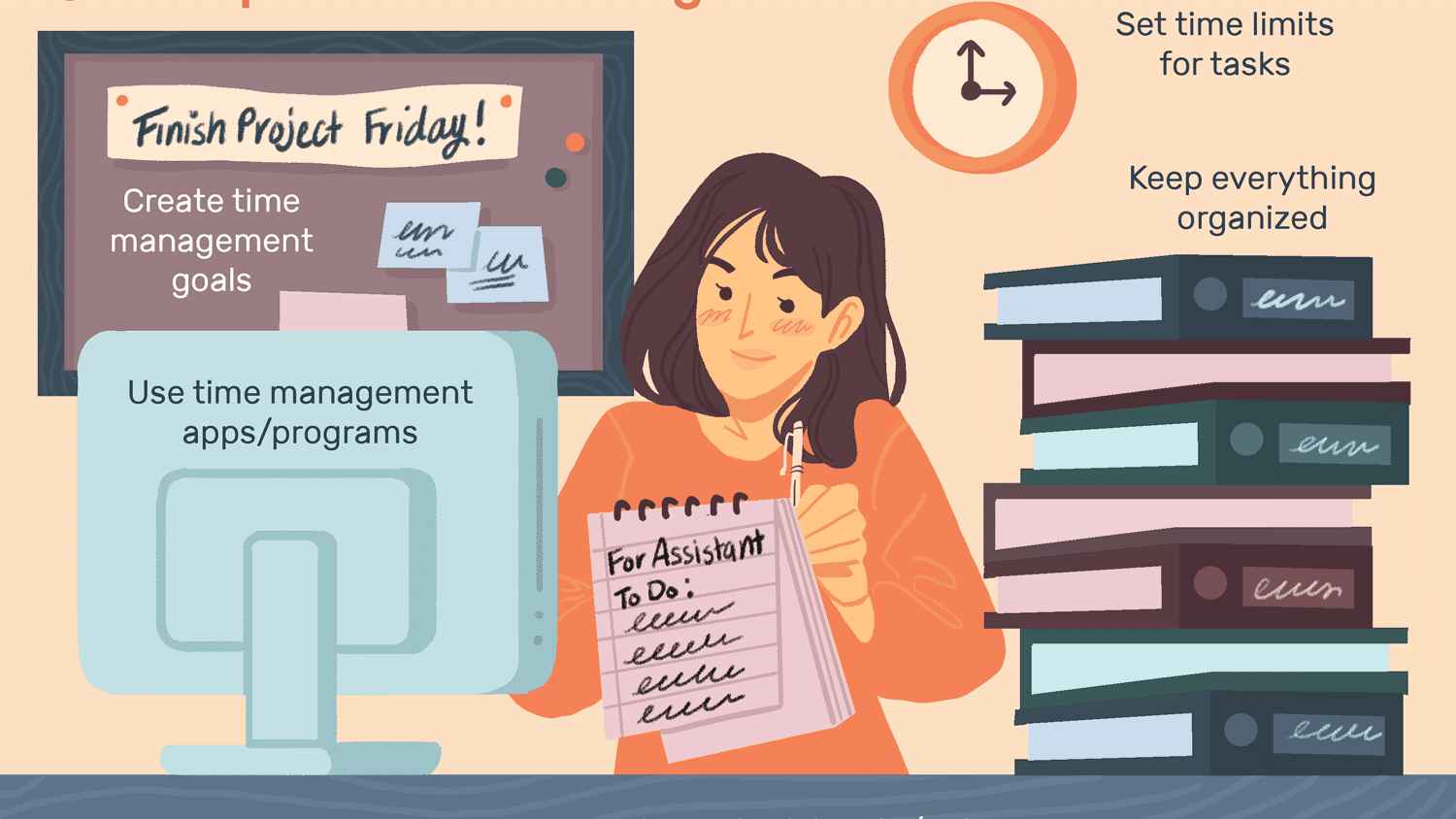 Do you find yourself with almost no time in hand lately? But there's so much left to be done! Balancing schoolwork, catching up with friends, and tending to other activities is not easy. No matter what, you're still left with the same 24 hours to check items off to-do lists, spend quality time with your friends and family, and relax. 
This is where time management steps in. It helps organise your day better and prepare you for a bright future ahead! Realising the importance of time management for students is a must! If you are one of those students trying their level best for ways to manage time and make the most of it, this blog is for you! 
What is Time Management?
They say, "time and tide wait for none!" It is in our hands to make the most of our time.
Simply put, time management is the wise use of our time, allowing us to check everything off our to-do list! 
It includes organising tasks and scheduling time in a way that let's us stay on top of our day's goals. Be it school assignments, projects, study groups, or even spending quality time with family and friends, good time management helps set aside distractions and ensures positive results. With proper time management, one can complete tasks with minimal effort and make the most of their time by working smarter, not harder.
The Importance of Time Management
Want to attain your goals quicker? Manage your time well, and ta-da!Good time management lets you accomplish more significant results in less time leading to better focus and ultimately, increased productivity!  
Here are five reasons why time management should be your go-to success mantra! 
It boosts productivity: If you manage your time effectively, it increases productivity! For example, assigning a fixed time for all the tasks in a day lets you plan your day in advance and allows you to get more work done in less time! The best way to do it is by making a timetable or having a schedule. Try to think of all the work you need to complete in a day and write it down on a piece of paper or on a timetable. Once you've done it, all you've got to do is stick to the plan and voila, you're all set for the day! Always remember, work hard and play smart!
It helps prioritise work: One of the main reasons behind the importance of time management in a student's life is that it helps you prioritise what needs to get done first! With proper time management and prioritising your work, you can easily transform your life from clutter to clarity in no time!
It has positive health impacts: When you handle your time effectively, you don't have to stay up late at night trying to finish your homework or assignments. Getting a good night's sleep is crucial for your brain and body to rejuvenate, and it reflects positively on your health and stamina or energy levels.
It reduces stress levels: Not completing your assignments, projects or presentations can get stressful. This is where self-care comes into play! Since students often get increased anxiety and stress levels due to academic pressure, it reflects poorly on their grades. Effective time management can help lower this mental pressure, make you more confident, and boost your energy levels! 
It prevents procrastination: We've all been a victim of procrastination, and how! Procrastination is a downhill journey that leads to feeling stressed and overwhelmed. Setting aside a specific time for a task gives you the strength and motivation you need to get the work done. It helps you overcome laziness, which often contributes to procrastination! 
It helps give you extra time for other activities: : As Jim Rohn said, "Either run the day or the day runs you." When you have a specified schedule for all your tasks for the day, you get an idea of the additional time you will have left after finishing your studies. And scheduling your tasks in a way will also give you time to do what you love. These might be your hobbies like drawing, gardening, reading, writing, photography etc., or activities such as cycling or jogging to get some fresh air to energise yourself after a long day. 
Handy Time Management Tips for Students
Now that you know why time management is important for students, you should try and manage time more wisely in your day-to-day life. But don't worry if you are unsure about how to implement this. We've got you covered with some helpful tips and tricks on time management for students that will get you hustling in a jiffy!
Start with a plan – Start by recording the dates of all your upcoming assignments, projects, and exams, online or offline, in a planner. Schedule important activities as well as free time, too. You can even try and set deadlines a few days before actual due dates to allow a margin in case of emergencies. Thanks to technology, you can use brilliant apps such as iStudiez Pro and PowerPlanner. These are free apps which help make your life easier by organising your day-to-day activities!
Steer clear from distractions – If you're someone who's obsessed with social media and loves to keep up with all the trends, you might find focusing and concentrating on your studies a bit difficult from time to time. So why not take advantage of your phone and the internet to move forward and do better? You might want to install an app to stop yourself from checking social media or using your phone while doing school work. Apps like Anti-Social allow you to block apps you overuse and help you in cutting off your distractions! 
Break down tasks, fit them into smaller time periods, aka the Pomodoro method!: You can easily feel overworked if you have to manage a massive project while completing other tasks all within a day. Let's say you have to type and turn in a 20-page report. It's only normal to feel overwhelmed doing it all at once! However, if you break down the task, allot specific time for each segment and take a break while doing it, it'll make it much easier! By dividing your work into fragments and resting your eyes and brain repeatedly, you are more likely to be efficient and responsible in finishing your report. The Pomodoro Technique helps you focus on tasks, fight distractions, and make your brain more sharp and vigilant!
Reward yourself: Getting through a to-do list is no easy task. However, effectively managing time is a habit that needs to be nurtured, and what better way to reinforce it than by rewarding yourself from time to time. Celebrations are fun, so mark the win, whether big or small, whenever you finish a task! It will fuel and assist you in establishing a routine that will eventually become a habit.
 Be realistic and flexible with your goals: Lastly, as a student, your primary goal is to study, but it's impossible to dedicate 24 hours solely to academics. There's so much more to be done; find out how much spare time you have. Once you do, you can allocate specific time for the activities you have to complete. This is where working smarter comes in. You want to utilise your time well, get work done, and simultaneously enjoy life!
Manage time and find your true calling with Mentoria!
The importance of time management imbibes greater clarity, capability, and confidence! You become more focused and productive when your time's on your side and make the best use of it! Proper time management helps you in achieving bigger goals, reducing procrastination, and increasing productivity.
However, sometimes managing all by yourself might seem challenging. So, let our expert counsellors at Mentoria help you gain the confidence you need! 
We, at Mentoria, explore your strengths and interests to help you find the right career. Then, we help you plan your next steps and come up with a learning plan for your development areas. If time management is an area where you need improvement, our counsellors can help you learn how to manage your time efficiently while you get #CareerReady! What are you waiting for? Take the Mentoria Assessment today!